Tip #734: What is Tone-Mapping
… for Apple Final Cut Pro X
Tip #734: What is Tone-Mapping
Larry Jordan – LarryJordan.com
Tone-mapping preserves highlights when displaying HDR media on SDR displays.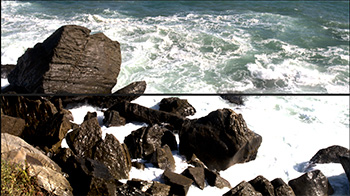 HDR (High Dynamic Range) media has grayscale values that far exceed what our computer monitors can display. (The Apple Pro XDR is a video monitor, not a computer monitor.)
As well, if we try using HDR media in a Rec. 709 HD project, the white levels are way past out of control.
NOTE: To convert HDR video to SDR video as part of a project, use the HDR Tools effect.
Tone-mapping solves this problem. This process automatically converts the vast grayscale range of HDR into the much more limited range of SDR (Standard Dynamic Range).
Final Cut Pro X does this using either a preference setting (Preferences > Playback) or a setting in the View menu at the top right corner of the Viewer.
This screen shot illustrates the difference. When tone-mapping is turned off (bottom of image) the highlights are blown out, with the detail lost; even though the image will look fine on an HDR monitor.
The top of the image is tone mapped to convert the highlights to fit within SDR specs. This means the image will look good on your computer monitor AND on an HDR monitor.
---
https://www.theinsidetips.com/wp-content/uploads/2019/09/Tips-Logo-700x150.jpg
0
0
Larry Jordan
https://www.theinsidetips.com/wp-content/uploads/2019/09/Tips-Logo-700x150.jpg
Larry Jordan
2020-06-01 01:30:00
2020-05-29 16:46:46
Tip #734: What is Tone-Mapping